Window Cleaning Virginia Water, Surrey
Virginia Water window cleaning services. All Clean & Clear provide professional commercial and residential window cleaning services in Virginia Water and throughout Surrey
Window Cleaners Virginia Water
Get a Window Cleaning Quote
Best Window Cleaners in Virginia Water
Welcome to All Clean & Clear, offering high-quality window cleaning services in Virginia Water, Surrey, and beyond. We provide first-class window clean services to both residential and commercial customers in the Virginia Water area and are constantly striving to exceed our customer's expectations.
Whether you are a Virginia Water resident or a business owner, we can help your windows shine - no matter what the height. We are proud of our track record, and have loads of happy, loyal customers in your area - why not give us a call and try us out.
Our teams of window cleaners are quick, efficient and unobtrusive - you will barely notice they are there until you realise your windows have never looked cleaner. Each of our cleaners has years of experience of window cleaning in Virginia Water and the Surrey region, and we put customer service at the heart of everything we do. If you want a first class service with a smile, we know you would be hard-pressed to find it better than our friendly, community-minded team.
Give Us a Call Today
Get in touch with All Clean & Clear today on 01483 618 118 or 07720 220 550 and speak to one of our window cleaning team. We are ready and waiting to take your call and get you booked in.
Water Fed Pole Technology
Worried about reaching the windows other cleaning companies cannot reach? Well, worry no more. We use the best water fed pole technology Virginia Water has to offer, and our telescopic poles can reach heights of up to 70 feet - perfect if you live in an apartment or tall house, or own offices in a commercial building.
The pumps we use will force the water upwards, while the window cleaner operates an extended brush to clean all the dirt away from your windows. We only use clean, pure water that allows you to leave your windows to dry naturally for that perfect finish. It's great for you, your building and windows, and the environment.
It's safe too, as there is no need for ladders which can harm both the window cleaner and your walls. In fact, because the pole technology is operated by hand, we guarantee we won't even impact your garden beds! We take health and safety incredibly seriously here at All Clean & Clear window cleaning service. And while we can reach the parts other window cleaners in Virginia Water cannot, we will always do it in a way that protects you, your home or premises, and the team member carrying out the work.
So, whether you are a commercial or residential property owner in Virginia Water or the surrounding areas, and also have need of the best water fed pole technology available, why not give us a call? Not only will we clean your windows perfectly, but we will also wash down your sills and frames too - not to mention your driveways, conservatories, and a lot more besides.
Commercial Window Cleaning
We also understand the complexities of owning business premises - and all the regulations that surround it. For this reason, we offer full risk assessments for any work prior to carrying it out, ensuring your business gets the clean windows it needs to provide a good impression while keeping you compliant in health and safety.
As you can see, it doesn't matter whether you are a homeowner or a business operator - All Clean & Clear know exactly how to clean and maintain your windows to ensure you have a perfect finish every time. We can help you with clearing gutters too as well as your driveways, patios, roofs and conservatories - no job is too big or too small.
Please don't hesitate to get in touch with us here at All Clean & Clear. Our reputation as one of the best window cleaning services in Virginia Water and the Surrey area is hard earned, and we aim to impress everyone that comes into contact with us. If you are looking for an outstanding service, professional cleaning, and a friendly, reliable team, give us a try and we guarantee we will exceed your expectations.
Residential & Domestic Window Cleaning
Our experienced team understands what customers expect. They strive to provide a perfect service every time to all our residential customers who need their windows cleaned in Virginia Water. We guarantee you will be impressed by the service you receive and will provide you with local window cleaners who have a first class reputation for delivering reliability every single wash. And even if you can't imagine cleaning that impossible-to-reach window that has never seen a drop of water, we can help.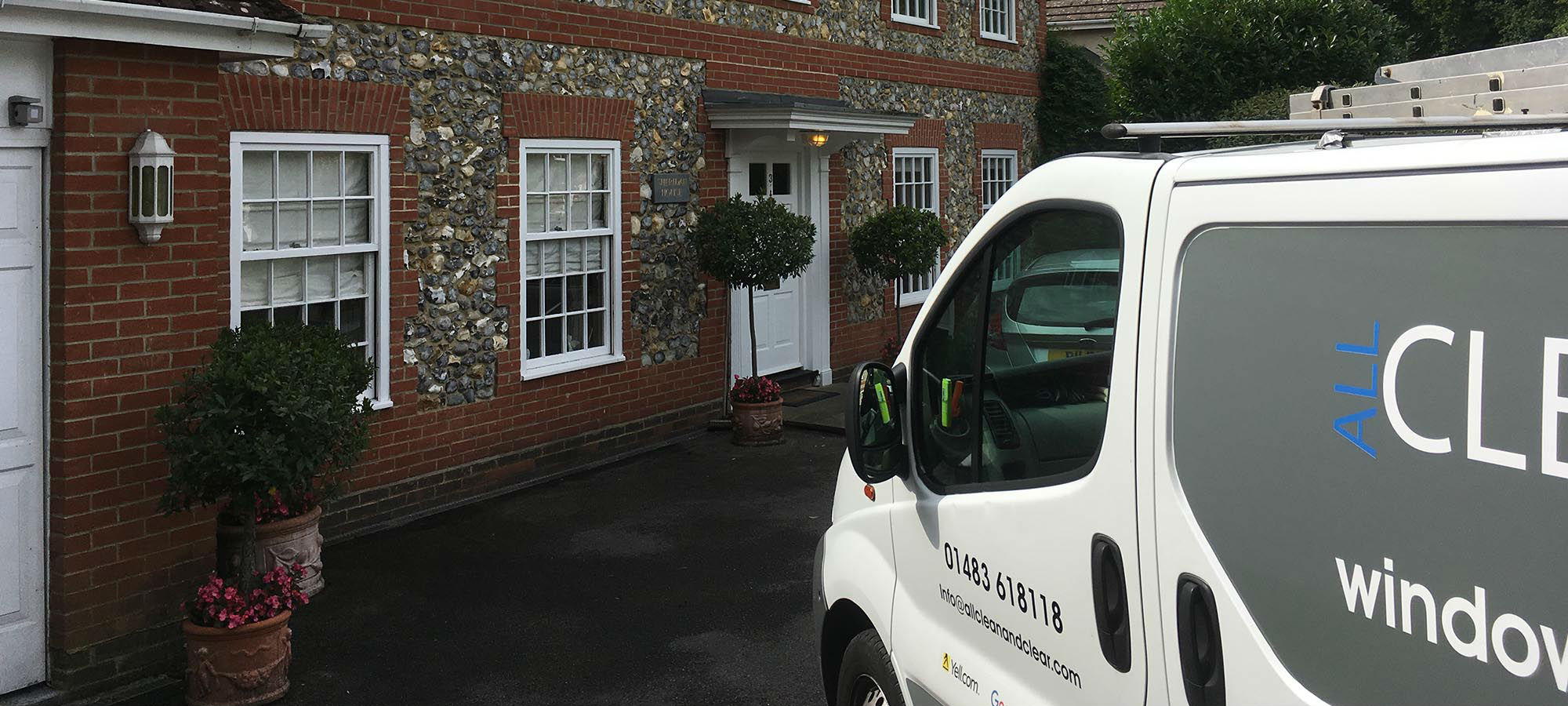 What Services Do We Offer?
All Clean & Clear provide professional commercial and domestic external cleaning services throughout Surrey