Window Cleaning Sunningdale, Surrey
Sunningdale window cleaning services. All Clean & Clear provide professional commercial and residential window cleaning services in Sunningdale and throughout Surrey
Window Cleaners Sunningdale
Get a Window Cleaning Quote
Best Window Cleaners in Sunningdale
All Clean & Clear provide our clients with the very best window cleaning service Sunningdale has to offer. Our understanding of the customer's needs and our experience in window cleaning makes us the best possible choice for both residential and commercial window cleaning in the Surrey area - and beyond. We constantly strive to improve our service, and our aim is to be the best. It's why our customers in Sunningdale keep coming back to us - and they know they will get gleaming, super clean windows as a result, every single clean.
Our teams of window cleaners have years of experience beneath their belts and are trained in all the latest techniques and safety measures. We can even reach the parts other window cleaning services in Sunningdale cannot reach, thanks to our clever water fed pole technology. With these brushes and our pumps, we can ensure that every window on your building looks fantastic by the time we have finished.
Commercial Window Cleaning
Health and safety is a critical aspect of running any business, which is why we guarantee our commercial window cleaners in Sunningdale are fully trained. We can carry out risk assessments on your premises and suggest the right solutions to your cleaning problems in a unique way that means you get the cleanest possible windows without any risk of danger occurring.
Water Fed Pole Technology
Our water-fed poles can reach those tough to reach windows without the use of ladders. Our telescopic poles are fed with water from a pump, and into a cleaning brush, which will give your hard-to-reach windows the best clean they have ever had. We can handle multi-storey buildings with ease, reaching up to and including 70 feet.
And how does this technology work? Well, pumps push water up through the poles, enabling the trained window cleaner to clean the glass and frames from a safe distance. We can rinse away any dirt before ensuring a perfect finish. Best of all, however, is that we only use pure water, meaning you can expect a completely spotless finish that is air-dried, 100% naturally.
It's an exceptional system for safety, too. Not only do we not need to use ladders on your property, but the pure water means there are no detergents or nasty chemicals to flow down your walls and into your garden areas. It's great for ensuring your brickwork, flower beds, and lower window frames don't suffer any damage.
All Clear & Clean adhere to UK health and safety regulations and our experienced teams are fully trained to carry out all commercial and residential works. And because there are no ladders, there is literally no chance of an accident being caused to you, your children or the window cleaners you hire.
Residential & Domestic Window Cleaning
If you are looking for window cleaners in Sunningdale, please don't hesitate to get in touch with us today. Our experienced teams will give you service you have been looking for, and we guarantee reliability, friendliness, and professionalism from all our cleaners. All Clean & Clear provide window cleaning services in Sunningdale, Surrey and far beyond. Our loyal customers demand the best possible quality window cleaning and we strive to exceed their expectations on every visit.
Don't forget, we don't just clean windows. Our professional equipment enable us to give your driveways the deep clean they have been longing for and get them back to looking their best. We can handle conservatory cleaning too. And whether you are a commercial or residential customer, we can offer services in Sunningdale for everything from patios to gutters and roofs.
We're waiting for you to call, so why not give our Sunningdale window cleaning services a try? We offer a comprehensive service to everyone, whether you live in a home or apartment, or have responsibility for an office or commercial property. Get in touch with us today and we promise you will be impressed with our family-run window cleaning company - and we will keep on improving, too.
Give us a call on either 01483 618 118 or 07720 220 550 and speak to one of our team about our Sunningdale window cleaning services.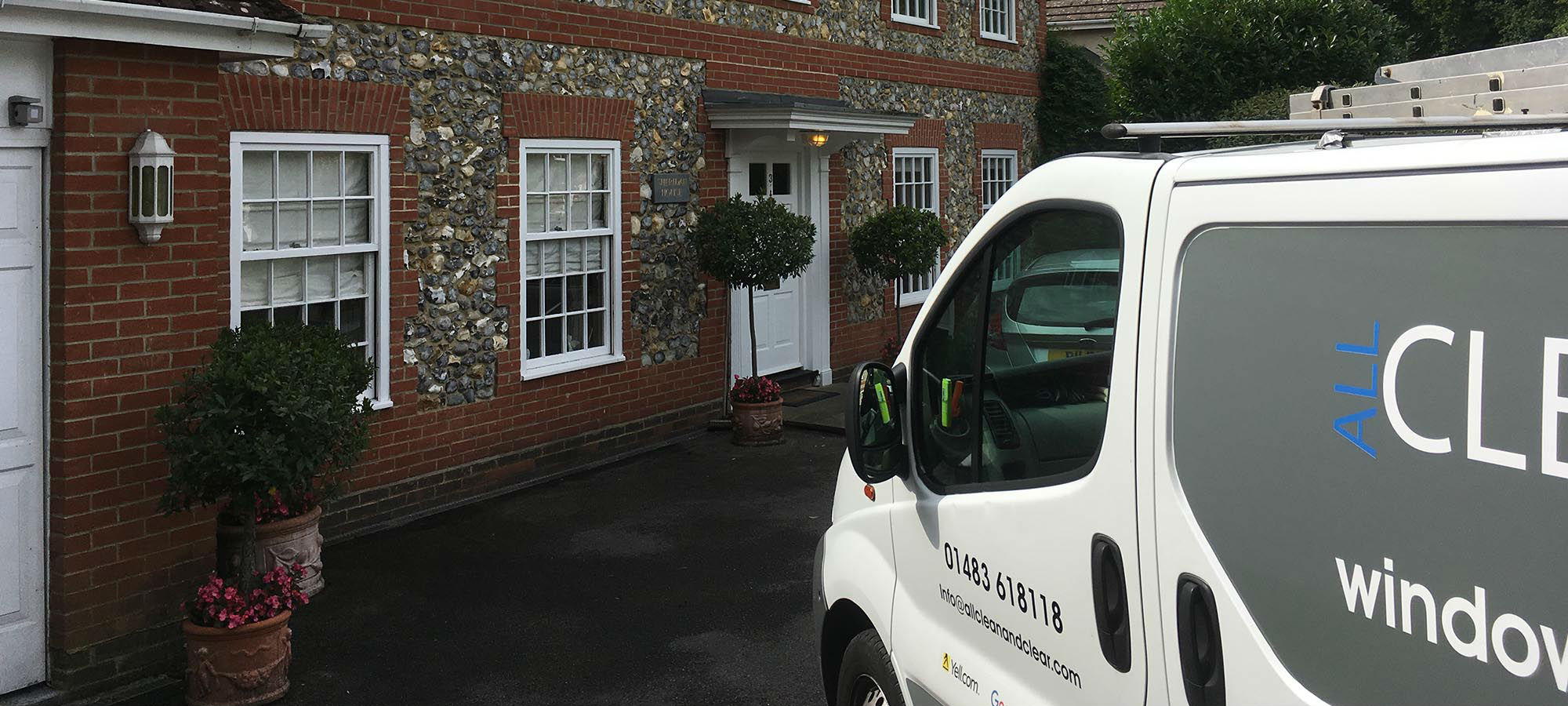 What Services Do We Offer?
All Clean & Clear provide professional commercial and domestic external cleaning services throughout Surrey